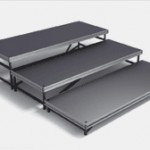 Mercury can provide you with any size stage, large or small! Our inventory includes 4' x 8' Stageright stage decks that can be combined to build any size stage. Staging is important to any event and MSL has all of the gear you need to put on the perfect show! Our extensive resume includes installations, production management and rentals for all different types of clients and venues.
Our inventory also includes an extensive stock of drape- both pipe and drape and theatrical drape. We carry various sizes, colors and fabrics in our drape inventory including sheer's, velour, and banjo cloth. When the show calls for something out of the norm, Mercury can also provide custom staging.
Staging:
4' x 8' Stage Decks
Stairs- 2, 3, 4, 5-tread
Railings
Skirting
All size Legs and Braces
Roof Systems
Pipe and Drape Rental:
Blue, Black & White Velour
White & Ivory Sheer
White & Black Banjo Cloth
Theatrical Draping
Traveler Curtains
Custom Sizes and Colors
Events that use our services: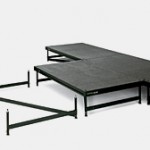 Indoor concerts, outdoor festivals, sporting events, family events, corporate events and presentations, mobile stages, photo shoots, dance troupes, fashion events and runways, bands, theatrical presentations, choirs, choral risers, audience risers, and other special events.
Areas Serviced:
Detroit Stage Rental, West Bloomfield Stage Rental, Troy Stage Rental, Royal Oak Stage Rental, Birmingham Stage Rental, MI Stage Rental including Oakland Stages Rentals, Hire stage Detroit.
Our services include just about every facet of an event. It doesn't matter what your audio visual needs are, Mercury has a solution for you.
Request a quote online or give us a call today to discuss your project (734) 507-1177.
Mercury Sound & Lighting – 28854 WALL STREET, WIXOM, MI 48393